VISUALS FOR WORLD TOUR ARMIN VAN BUUREN
JULY 22ND, 2015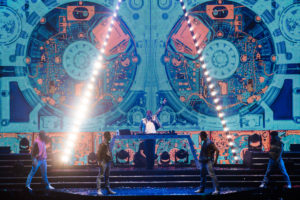 Mike was asked to create visuals for the new world tour of Armin van Buuren, the 'Armin Only Embrace' world tour. The idea was to use the instruments from the car on the cover of the new album shot by Anton Corbijn. After many shoots with the X-ray machine he went into the studio to create the final visuals. A short impression of the final result can be found here.
'EXPOSURE' NOW AVAILABLE AT KUNST.NL
JULY 22ND, 2015
Mike's piece 'Exposure' is now available via online art warehouse kunst.nl. With more than 55,000 pieces in stock, kunst.nl is the Netherlands and Belgium's largest furnisher of interior art for rent. A special feature included for the lucky recipient of any of Mike's pieces is his unique certificate of authenticity (see photo) which is signed by the artist and is itself an x-ray photograph.
 DUICIDE AND THE VENICE BIENNALE
JULY 14TH, 2015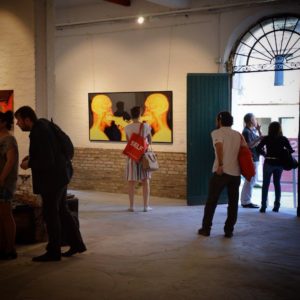 It's May of 2015 when Mike's work gets its most prestigious support yet – a showing during the legendary Venice Biennale in one of the town's coolest locations. Once again, curated by Luca Curi and with the support of the It's Liquid Group, "Duicide" was part of this event for many weeks.
X-RAY VISION GOES INTERNATIONAL IN MILAN
APRIL 2ND, 2015
This past March, Mike van Veen was invited to partake in the illustrious It's Liquid Group event in the glorious Brera-quarter section of Milan, Italy. Surrounded by equally interesting and progressive artists, Mike featured his controversial piece "Duicide" for the first time at this event – curated by founder of the Liquid Group, Luca Curi.
X-RAY VISION FEATURED IN AMSTERDAM DANCE EVENT
NOVEMBER 1ST, 2014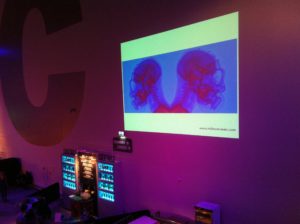 5,500 guests of Spinnin' Records Spinnin' Sessions were treated to giant projections of Mike van Veen's 'X-Ray Vision' as they entered the lobby of the Heineken Music Hall. As a finale to the Amsterdam Dance Event (ADE), the world's largest and longest running electronic music conference, the legendary music venue was filled with beats from the likes of Martin Garrix, R3HAB, Mightyfools, Julian Jordan, Sander van Doorn, Showtek, and many more. Check out the after-movie of the event here.
X-RAY VISION'S WORLD DEBUT
APRIL 14TH, 2013
Mike van Veen debuts his collection 'X-Ray Vision' in the legendary Hotel Arena's Club Donderdag to an invitation-only crowd. This was the first ever public showing and featured the still popular "In Balance Forever", "Reflector" and "Exposure" pieces.